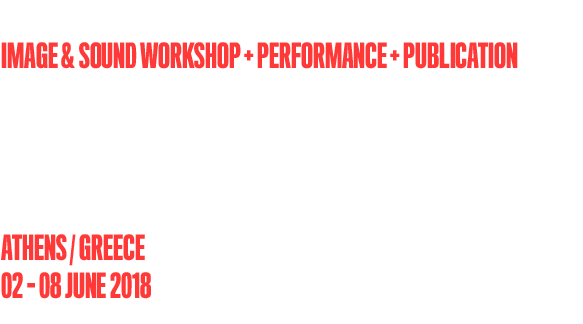 7 DAY CREATIVE WORKSHOP
+ PUBLIC PERFORMANCE
+ LIMITED EDITION PUBLICATION DESIGNED BY VOID
12 VISUAL ARTISTS (PHOTOGRAPHY & VIDEO EXPERIMENTS)
4 SOUND ARTISTS (DEDICATED TO FIELD RECORDINGS & SOUND RESEARCH)
WILL COLLABORATE DURING A 7 DAY INTENSIVE CREATIVE PROGRAM
IN ORDER TO EXPERIMENT & ACHIEVE NEW PERSONAL WORKS.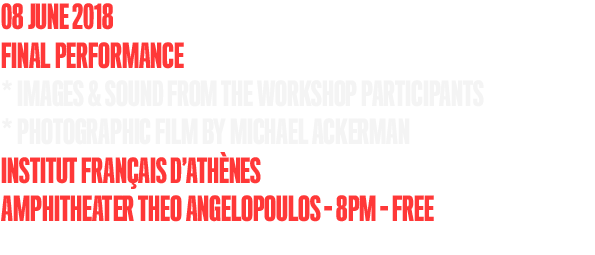 THIS IMAGE & SOUND WORKSHOP IS ORGANIZED BY TEMPS ZERO & VOID
WITH THE KIND SUPPORT OF INSTITUT FRANÇAIS IN PARIS & IN GREECE

MICHAEL ACKERMAN
PHOTOGRAPHER / AMERICAN / LIVES IN BERLIN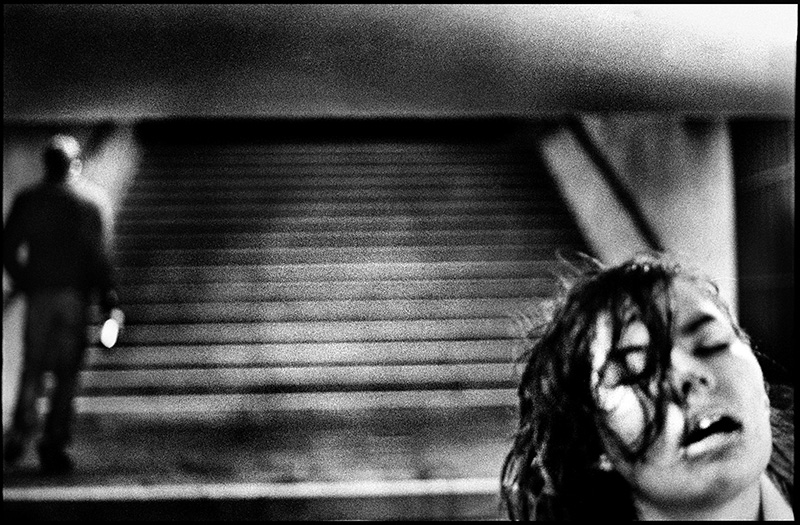 MICHAEL ACKERMAN HAS MADE HIS MARK BY BRINGING A NEW, RADICAL AND UNIQUE APPROACH TO PHOTOGRAPHY.
HIS METHOD DOESN'T FOLLOW TRADITION, IT IS NOT A SIMPLE CHRONICLE OF EVENTS. THE PACE OF HIS PHOTOGRAPHY IS CLOSER TO CINEMATOGRAPHY THAN TRADITIONAL DOCUMENTARY: IMAGES USED IN SEQUENCES, DIFFERENT FORMATS, PICTURES THAT APPEAR «WRONG», IMAGES USED AS LINKS BETWEEN OTHER IMAGES; ALL USED TO COMPOSE AN ESSAY THAT DOES NOT VALUE WHERE OR WHEN THE PICTURES WERE MADE BUT RATHER ATTEMPTS TO CAPTURE A DEEPER EMOTIONAL AND SPIRITUAL TRUTH OF THE SUBJECT.
www.tempszero.com/michael-ackerman
STÉPHANE CHARPENTIER
PHOTOGRAPHER, EDITOR, TEMPS ZERO CURATOR / FRENCH / LIVES IN ATHENS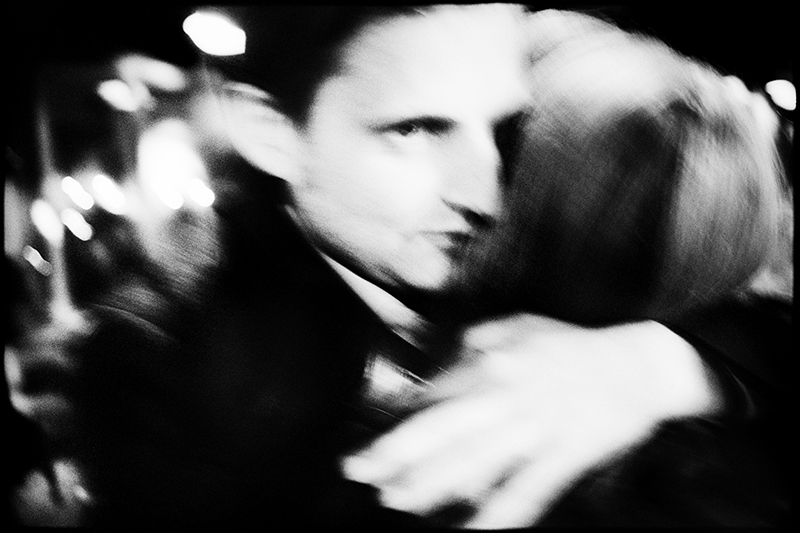 STÉPHANE CHARPENTIER ENGAGES AN INTROSPECTIVE PHOTOGRAPHIC LANGUAGE TO BUILD LONG-TERM ANALOG SERIES. HIS IMAGES DRIVE TO MOMENTS SUSPENDED BETWEEN AN ENDLESS VISION OF HUMANITY'S STRUGGLES AND HOPES.
HE ALSO CREATES SHORT ARTISTIC FILMS, INSTALLATIONS AND SOME MUSIC VIDEOS. HE COLLABORATES WITH VARIOUS MUSICIANS AND TOOK PART TO THE CREATION OF OISEAUX-TEMPÊTE BAND. HE HAS BEEN PART OF SEVERAL PHOTOGRAPHIC CURATORIAL PROJECTS INCLUDING THE GOMMA GRANT 2016 & 2017. HE IS CURATING, PROMOTING AND EDITING THE TEMPS ZERO PROJECTS SINCE 2013.
ALYSSA MOXLEY
COMPOSER & SOUND ARTIST / AMERICAN-IRISH / LIVES IN ATHENS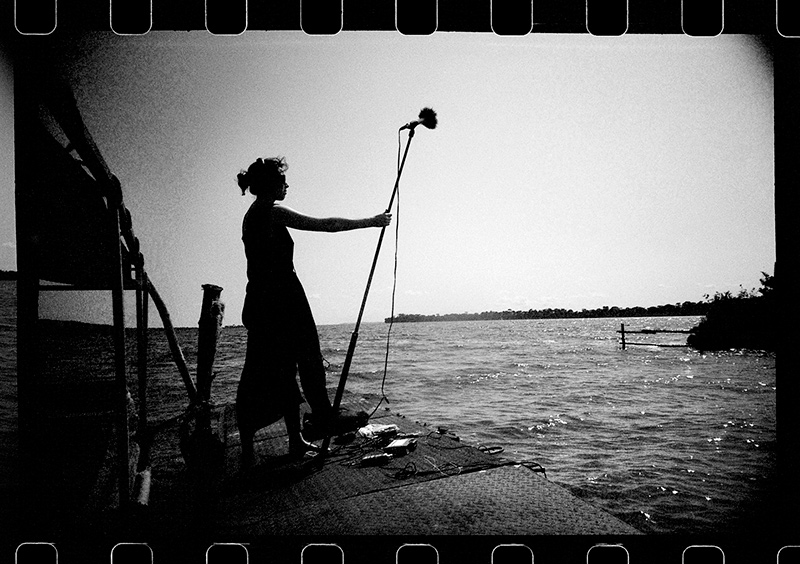 ALYSSA MOXLEY WORKS WITH SOUND, INSTALLATION AND COLLABORATIVE PROJECTS. USING MULTIPLE SOURCES, TOOLS AND TECHNIQUES (FIELD RECORDINGS, EXPERIMENTAL MICROPHONES, INSTRUMENTS, SOUND DESIGN & SPEAKER PLACEMENT), SHE USES SOUND TO EVOKE MEMORY AS A PERSONAL AND SHARED MEDIUM.
HER FIELD RECORDINGS GATHERED FROM EXTENSIVE TRAVELS ACCESS NARRATIVES OF IDENTITY, PLACE, SPACE, AND EMBODIED EXPERIENCE.
AMONGST HER PERFORMANCES, ALYSSA TOOK PART IN THE TEMPS ZERO SHOW IN BRAGA 2015. SHE INSTRUCTED THE FIRST TEMPS ZERO WORKSHOP IN 2017. SHE HAS CURATED VARIOUS SOUND EVENTS, INCLUDING THE KINISI FESTIVAL OF SOUND.
www.alyssa-moxley.com
www.soundcloud.com/alyssamoxley
TEMPS ZERO
SINCE 2013, TEMPS ZERO IS ORGANIZING PROJECTS BASED ON THE INTERACTION OF PHOTOGRAPHY AND MUSIC.
COLLECTIVE PERFORMANCES AND WORKSHOPS HAVE BEEN SET UP IN DIFFERENT CITIES OF EUROPE,
PROMOTING NEW TALENTS FROM VISUAL & SOUND FIELDS.
VOID
VOID IS A PROJECT FULLY DEDICATED TO PHOTOGRAPHY FOUNDED IN 2016 :
INDEPENDENT PUBLISHER, ALTERNATIVE EXHIBITION SPACE,
AND EDUCATIONAL SPACE FOR PHOTOGRAPHY IN THE HEART OF ATHENS.
www.void.photo

DUŠANA BALTIĆ
PHOTOGRAPHER / CROATIA / LIVES IN AUSTRIA, KLAGENFURT
http://instagram.com/shananeira
IVAN BLAZHEV
PHOTOGRAPHER / REP MACEDONIA – FYROM / LIVES IN SKOPJE
www.ivanblazhev.com
DR MIKE BLOW
SOUND ARTIST / UK / LIVES IN LEICESTER
www.evolutionaryart.co.uk
ALEXANDRE CHRISTIAENS
PHOTOGRAPHER / BELGIUM / LIVES IN DAVE
www.alexandrechristiaens.com
GIORGIOS GARGALAS
SOUND ARTIST / GREECE / LIVES IN CORFOU
https://soundcloud.com/giobeat
TIMOTHY ISHERWOOD
SOUND ARTIST / CANADA / LIVES IN BERLIN
www.timisherwood.com
BLERTA KAMBO
PHOTOGRAPHER / ALBANIA / LIVES IN TIRANA
www.instagram.com/blerta.kambo
TOMASZ LACZNY
PHOTOGRAPHER / POLAND / LIVES IN LONDON
www.tomasz-laczny.com
ELSA LAURENT
PHOTOGRAPHER / FRANCE / LIVES IN PARIS
www.elsalaurent.com
MÉLANIE PATRIS
PHOTOGRAPHER / BELGIUM / LIVES IN BRUSSELS
www.melaniepatris.com
LARISSA RIAHI
PHOTOGRAPHER / FRANCE / LIVES IN PARIS
www.larissariahi.com
MOHAMMED ROWE
SOUND ARTIST / UK / LIVES IN LONDON
http://soundcloud.com/tekfis/sets/transitions
ERIC RUMEAU
PHOTOGRAPHER / FRANCE / LIVES IN TOULOUSE
www.eric-rumeau.fr
DANAI SIMOU
PHOTOGRAPHER / GREECE / LIVES IN ATHENS
www.danaisimou.com
DAMIEN SIVIER
PHOTOGRAPHER / SWITZERLAND / LIVES IN GLAND
www.damiensivier.net
MARC STERKENDRIES
PHOTOGRAPHER / BELGIUM / LIVES IN LIÈGE
www.marcsterkendries.com
NAI WENHSU
PHOTOGRAPHER / TAIWAN / LIVES IN TAICHUNG
www.naiwenhsu.squarespace.com
*